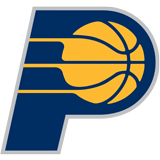 The Indiana Pacers are an American professional basketball team based in Indianapolis. The Pacers compete in the National Basketball Association (NBA) as a member of the league's Eastern Conference Central Division. The Pacers were first established in 1967 as a member of the American Basketball Association (ABA) and became a member of the NBA in 1976 as a result of the ABA–NBA merger. They play their home games at Gainbridge Fieldhouse. The team is named after the state of Indiana's history with the Indianapolis 500's pace cars and with the harness racing industry.
The Pacers have won three championships, all in the ABA. The Pacers were NBA Eastern Conference champions in 2000. The team has won nine division titles. Six Hall of Fame players – Reggie Miller, Chris Mullin, Alex English, Mel Daniels, Roger Brown, and George McGinnis – played with the Pacers for multiple seasons.
In early 1967, a group of six investors (attorney Richard Tinkham, John DeVoe, Chuck DeVoe, entrepreneur Lyn Treece, sports agent Chuck Barnes, and Indianapolis Star sports writer Bob Collins) pooled their resources to purchase a franchise in the proposed American Basketball Association.
For their first seven years, they played in the Indiana State Fairgrounds Coliseum. In 1974, they moved to the plush new Market Square Arena in downtown Indianapolis, where they played for 25 years.
Early in the Pacers' second season, former Indiana Hoosiers standout Bob "Slick" Leonard became the team's head coach, replacing Larry Staverman. Leonard quickly turned the Pacers into a juggernaut. His teams were buoyed by the great play of superstars such as Mel Daniels, George McGinnis, Bob Netolicky, Rick Mount, Freddie Lewis and Roger Brown. The Pacers were – and ended – as the most successful team in ABA history, winning three ABA Championships in four years. In all, they appeared in the ABA Finals five times in the league's nine-year history, which was an ABA record.