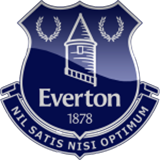 Everton Football Club (/ˈɛvərtən/) is an English professional association football club based in Liverpool that competes in the Premier League, the top tier of English football. The club was a founder member of the Football League in 1888 and has competed in the top division for a record 118 seasons, having missed only four top-flight seasons (1930–31, 1951–52, 1952–53 and 1953–54). Everton is the second-longest continuous serving club in English top flight football and ranks third in the all-time points rankings. The club has won nine league titles, five FA Cups, one European Cup Winners' Cup and nine Charity Shields.
Formed in 1878, Everton won their first League Championship during the 1890–91 season. After winning four more League championships and two FA Cups, the club experienced a post-World War II lull until a revival in the 1960s. A period of sustained success came in the mid-1980s, when Everton won a further two League championships, one FA Cup, and the 1985 European Cup Winners' Cup. The club's most recent major trophy was the 1995 FA Cup.
The club's supporters are colloquially known as "Evertonians" or "Blues". Everton's main rivals are Liverpool, whose home stadium at Anfield is just under one mile away from Everton's home at Goodison Park; the two clubs contest the Merseyside derby. Everton have been based at Goodison Park since 1892, having moved from their original home at Anfield following a disagreement over its rent. The club's home colours are royal blue shirts with white shorts and socks.
Everton was founded as St. Domingo's FC in 1878 so that members of the congregation of St Domingo Methodist New Connexion Chapel in Breckfield Road North, Everton could play sport year round – cricket was played in summer. The club's first game was a 1–0 victory over Everton Church Club. The club was renamed Everton in November 1879 after the local area, as people outside the congregation wished to participate.